This weekend, for the first time ever, the Caterham Motorsport Championship joined forces with the Asia Classic Car Challenge at the Sepang International Circuit in Malaysia.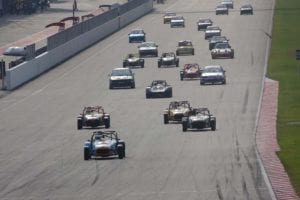 The new format would entail the Caterham drivers using new skills as they now had to contend with fighting different cars such as a Porsche, Sylva Phoenix, Mitsubishi Evo 1, and Proton Sagas.
Racing on the grid with new competitors proved to be a welcome change for the Caterham camp, especially since they were not use to the driving styles of the ACCC contenders, and had to negotiate through a busier field.
On Saturday it was the two Caterham 420Rs that secured the front row of the ACCC grid, with CH Mac claiming pole position from the 2018 420R champion Tan Pye Sen.
The three Supersport Caterhams were only separated by the Mitsubishi Evo1 of See Wen Yea and the Sylva Phoenix of multiple ACCC champion Kelvin Davies.
Once again it was the two 420Rs of CH Mac and Pye that stormed off into the distance for a bumper-to-bumper battle for the win. Both drivers exchanging the lead throughout the race, were only separated by less than a second for the whole race, with CH Mac taking the chequered flag from Pye and CJ Mac.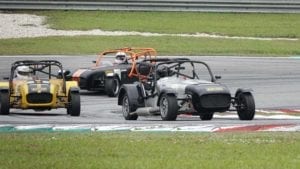 Further down the field it was yet another close battle between the Supersports of Darren Brown, Shirendra Lawrence and Peter Reynolds. Unfortunately Peter had to retire due to his fuel hose becoming loose.
The fight between Darren and Shirendra was made all the more exciting as they had the ACCC cars to contend with. The Honda Civic EF of Pham Thang Kim and the Toyota Corolla of Winjnand Schagen kept the Caterhams honest.
But it was Darren who crossed the finish line first for the win with Shirendra following closely.
The weekend produced two different winners for each class, with Pye winning in the 420R class and Shirendra Lawrence claiming a long awaited, but deserved win. "After the troubles I've had with the car recently it was great to be back on the top step of the podium," said Shirendra. "Joining the ACCC grid was a great idea and I thoroughly enjoyed racing against the classic cars. It was a different challenge, and also made us use new skill sets to battle with the unpredictable ACCC cars that we haven't raced against before. I'm really looking forward to racing with ACCC again at the next event."
The Caterham drivers praised the idea of joining the ACCC grid as it gave them new experiences that also introduced them to new skill sets to battle unknown and unpredictable production cars.
The Caterham Motorsport Championship will be joining the ACCC again in July for the next Malaysia Championship Series.
Results
RACE 1
420R: CH Mac, Tan Pye Sen, CJ Mac.
Supersport: Darren Brown, Shirendra Lawrence.
RACE 2
420R: Tan Pye Sen, CH Mac, CJ Mac.
Supersport: Shirendra Lawrence, Peter Reynolds, Darren Brown.